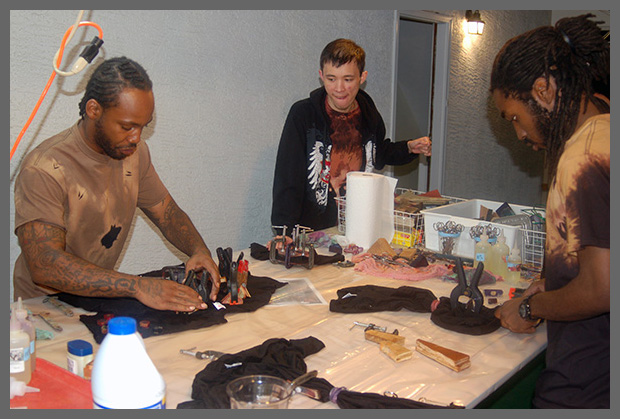 Workshoppin' with our new friends, Justin and Judah, under my son Craig Ransom's supervision - creating as we discover fun.
Why Live Dye?
Because You're Unique – And So Is Our Art
We make unique pieces – each one an individual work of art. We don't make commodities or mass-produce anything, so when you wear a Live Dye, you are wearing a one-of-a-kind artwork, not a copy. We also use a unique combination of techniques with our pieces, including bleach discharge, thiourea dioxide discharge, vat dyes, and fiber-reactive dyes – a variety that others don't bother with because they're challenging, and time-consuming, and require careful design. Look around the web and see – no one else is doing what we're doing. Why do we do it? Because it gives our pieces a depth, complexity, and sophistication that you can't get by spinning a shirt and slathering it with dye. We think it's worth the trouble, because we want you to notice the difference. We love it – and think you will too.